Advertising & Marketing
---

Thomas Meyer, co-founder of Mobile Now Group and a veteran of the China mobile scene, encourages Western brands to advertise and sell via WeChat.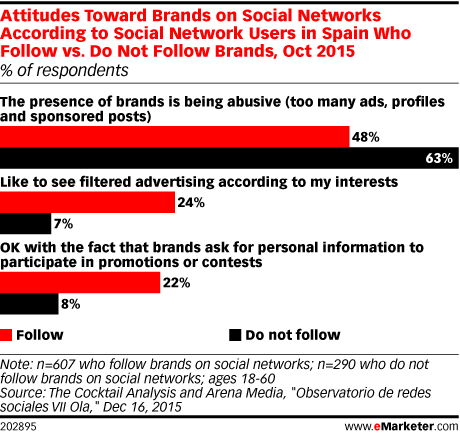 Many marketers are interested in how to engage consumers on social media. But not all users are interested, and even those who are can get turned off. According to October 2015 research in Spain, attitudes differ dramatically between users who do and don't follow brands.
Eric Oliver, director of digital marketing for outdoor apparel brand The North Face, talks about his company's approach to creating and distributing immersive virtual reality (VR) experiences using 360-degree videos.
The amount of content B2B marketers are creating is expected to drastically increase in 2016. With this amplified emphasis on content marketing, these marketers have evolved in their approach and strategies—they are looking at the long game and realizing that although waiting 18 to 24 months for results is not ideal, it is the new reality.
Almost all web users know something—however vague—about the internet of things (IoT). But many worry about the privacy implications.
At first mention of the internet of things (IoT ) for healthcare, Fitbits, Jawbones and smart watches probably come to mind. These devices have received a strong dose of media hype, but they are just the tip of the iceberg in a growing infrastructure that is bringing meaningful connectivity to the business of health.
Many brands prefer to upload their videos directly to Facebook, according to research from quintly. YouTube videos only make up roughly one-quarter of all videos posted by brands on the social network.
Steve Chadwick, director of marketing communications at Verizon Enterprise Solutions, told eMarketer about the company's content strategy and results.
There are significant differences in how tolerant digital video viewers in Latin America are of pre-roll ads depending on what device they're using, with mobile viewers skipping ahead at higher rates. That's the case even for the shortest of pre-rolls.
Genpact (formerly GE Capital) dedicates half of its marketing budget to content marketing. Content leader Amrita Thapara explains why.