Linda Duncombe, global head of digital, social and content marketing at Citibank, discusses the bank's evolving social video ad strategy.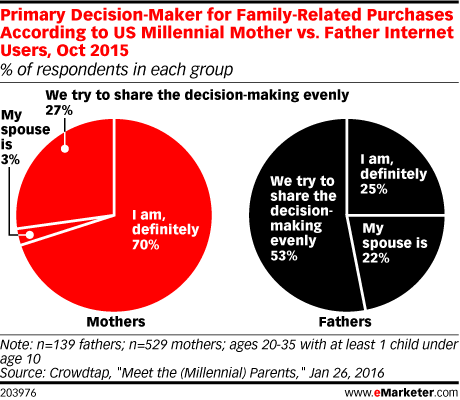 As patterns of motherhood in the US have shifted, so have patterns of fatherhood—with hyperinvolved new dads getting much attention even as fathers who do not live with their kids at all have become common. Some aspects of father behavior get disproportionate attention, while others are neglected.
According to millennial internet users in Canada, the leading benefit of loyalty programs are members-only discounts and offers. Nearly eight in 10 of those surveyed in September 2015 pointed to the members-only offers, while another 73% say they appreciate collecting rewards that can be converted into travel miles or monetary value.
Chris Ciccarello, senior director of pricing and customer analytics at Farmers Insurance Group, explains how predictive analytics help strengthen the brand's personalization efforts.
Before marketers jump in head first, they must think about location targeting beyond serving an ad to a mobile user who is near a physical store location. Eric Mugnier, senior vice president of North America at mobile marketing and advertising agency M&C Saatchi Mobile, told eMarketer's Tricia Carr how marketers can be smarter about location targeting and pitfalls to avoid.
Advertisers in Australia report they are increasingly turning to people-based targeting to improve the effectiveness of their online ad campaigns. Many harness data gleaned from first-party sources, as well as from partners and digital ad platforms, to provide more relevant and effective advertising to consumers.
Programmatic advertising continues to become more sophisticated, and spending via the media buying technique is growing, albeit at a decreasing pace. In our latest US programmatic forecast, eMarketer predicts that this year, more than two-thirds of all digital display advertising will be purchased programmatically.
In Q4 2014 the region had 3.3 million pay TV subscriptions, which rose to 3.7 million subscriptions in Q4 2015—a positive change of 13.5%, and reason to believe there is room for market expansion.
Vincent Brissot, global chief marketing and communications officer at HP Inc., talks about how the computer and printer manufacturer improved its recommendation engine with predictive and prescriptive tools. [Editor's Note: Brissot is now head of channel marketing and operations at HP.]
According to a February 2016 survey, 36% of internet users in Denmark, Finland, Norway and Sweden used an ad blocker. The ad blocking user rate was highest in Sweden, at 39% of respondents, followed by Denmark (37%). Norway and Finland were tied at 34% each.