Rob Cushen, managing director of EMEA for mobile app development studio Intellectsoft, speaks on the importance of having a layered app experience and how streamlining multiple technologies leads to an engaging user experience.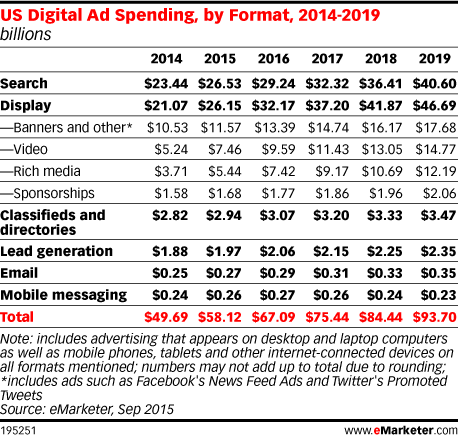 In 2016, digital display ad spending will eclipse search ad spending in the US for the first time. Combined, the categories of video, sponsorships, rich media and "banners and other" will account for the largest share of digital ad spending: 47.9%, worth $32.17 billion.
Though vinyl album sales grew by 56.6% in 2015—to 6 million units—they only make up a small portion of music sales in North America, according to 2015 research. Digital units were down.
More digital buyers are researching products on the day of purchase than before or after it, according to 2015 data.
Loyalty program members in the UK want rewards, according to Q3 2015 research. Most internet users only belong to a handful of programs, and they want clear perks from them.
Young people in Brazil spend the most time with mobile devices, according to September research, and Facebook is likely a major recipient of their attention. Google is the No. 2 mobile property in the country.
Mobile has become an important channel for shoppers as they research and purchase products. According to 2015 research, these "mobile warriors" skew younger as well as female
Millennials are the most active video viewers of any US age group, and according to research from TiVo, this demographic primarily watches TV shows.
Alexandre Sagakian, vice president of research and data at Qriously, discusses how college students engage with ads.
Video is taking over mobile data in the UK, according to 2015 data. The rise of 4G may be one reason, as eMarketer estimates two in five mobile phone users in the country will watch video this year.