Katie Casavant, CEO of Kantar Shopcom, the data-integration and analytics platform at Kantar Retail, talks about the ways retailers can meet consumers' heightened expectations.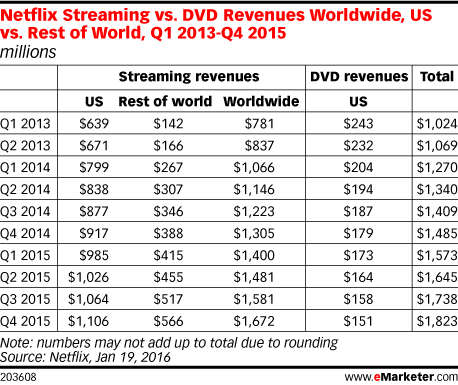 Netflix has further expanded its reach globally, making the service available everywhere in the world except China. Original content, which has helped the company become a video streaming destination, is likely driving its streaming revenues—which far exceed its DVD revenues.
Much of the consumer car rental business has already moved online, especially in countries with advanced digital habits. Now there's evidence that in Germany, for example, people are also using the internet in their millions to research and buy new and secondhand vehicles.
Zach Woith, vice president of loyalty strategy at service provider 500friends, discusses why customers stop using loyalty programs and what marketers can do to keep them engaged.
The business-to-business (B2B) world has widely adopted lifecycle marketing, according to 2015 research. But some stages are being neglected, and many firms still have not gotten on board.
When it comes to personalization, marketers may still be stuck on the basics. However, many agree that technology is making it much more straightforward to personalize at scale, according to September 2015 research.
The vast majority of women in Japan who have a new baby or toddler buy baby items online at least sometimes—but according to 2015 research, they're also still heavily reliant on offline purchase channels.
Consumers say they want the option to buy online and pick up purchases in-store, and according to research, many retailers are seeing their customers do just that. Some are seeing in-store pickups account for as much as 30% of all ecommerce sales.
The internet of things (IoT) has a wide-ranging impact across many categories, from healthcare to travel. And consumers are even embracing smart home devices. However, when it comes to purchasing an IoT device, cost is a top barrier.
Charlie Wang, COO of programmatic video ad technology platform ReachMax, talks about what is driving programmatic advertising in China and the problems it faces.