eMarketer's Bill Fisher spoke with Todd Tran, global senior vice president of programmatic and mobile at native video ad platform provider Teads, about the reasons behind the growth of ad blocking in the UK and how it can be arrested.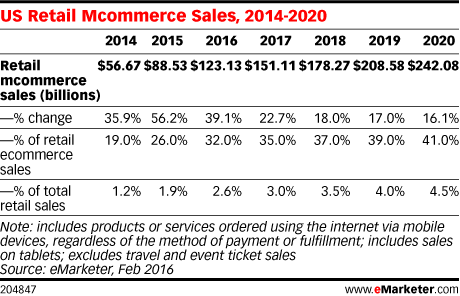 Mobile commerce had a breakthrough year in 2015. Smartphone retail mcommerce sales in the US nearly doubled, driven by larger screens, smoother buying experiences, better mobile search and context-driven discovery. The same trend should continue throughout 2016.
A growing share of programmatic ad spending in China is moving to mobile devices, driven in part by the popularity of ad markets offered by players including Alibaba, Baidu and Tencent.
Subscription video-on-demand is the fastest-growing segment of in-home video entertainment. But physical formats—such as DVDs—still account for two-thirds of home video sales.
This year, Americans will spend more than half of their social networking time on Facebook, according to eMarketer's latest forecast of time spent with media. Going forward, however, growing competition from other social networks will make it increasingly challenging for Facebook to significantly grow engagement time.
Monthly time spent on mobile chat apps reached nearly 510 billion minutes in Q4 2015, per data from iResearch Consulting Group. Average time spent per session during that quarter was 3.89 minutes.
Jenna Pelkey, director of global media and marketing strategy at General Electric, talks about how the multinational conglomerate uses digital video tools and platforms to increase brand awareness.
Digital buyers in Australia expect a lot when it comes to shipment tracking options. However, many retailers are not quite meeting these expectations, according to October 2015 research.
Media buyers face many tough decisions—long term gains vs. short term sacrifices, cost benefits vs. drawbacks, even how to measure whether a choice is successful. For media buying decision-makers in France, considering changing attribution models comes with its own set of barriers.
As mobile usage becomes ubiquitous, the path to purchase is becoming less defined. Shoppers are always connected, well-informed and often quick to convert both digitally and in-store. The traditional shopping phases still exist, but once smartphones are introduced, behavior shifts.