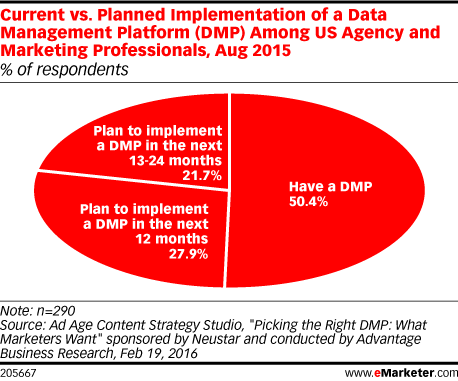 The use of data management platforms (DMPs) among industry professionals continues to grow. Yet, those same marketers are skeptical of DMPs' ability to deliver on expectations and business goals, according to research.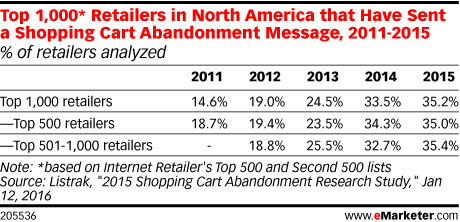 More top 1,000 retailers have sent a shopping cart abandonment message in 2015 compared to prior years, according to research.
Many consumers prefer traditional methods, like a phone, to communicate with a company. But according to November 2015 research, the phone can also be the most frustrating customer service channel.
B2B marketers have made advancements in mobile in the past three years, per research. In 2016, 79% of B2B marketers said they had a mobile-friendly site, an increase compared to the 57% of respondents who had one in 2014.
Executives worldwide say expanding their customer base is a top priority, more so than retaining their existing one, according to August 2015 research.
As deployment of LTE mobile networks continued in Argentina during 2015, shipments of smartphones that support the technology grew more than 1600% compared to the prior year.
eMarketer expected a strong 2015 holiday season for ecommerce and total retail sales. In this webinar, we take a look at the final results and review what retailers need to know about changing consumer behaviors to keep up in 2016. Topics include: How the overall retail sector performed during the 2015 holiday season; Why experiential gifts were one significant holiday trend of 2015; How consumers used their phones and other mobile devices to shop last holiday season; How deal-seeking behaviors are changing the holiday shopping calendar.
Christopher Curtin, chief brand and innovation marketing officer at Visa, discusses the challenge of integrating marketing tech companies.
Shop.ca executives discuss how Canada's online marketplace uses email to reach customers.
Tip Rose, vice president of enterprise digital marketing at healthcare supply chain Cardinal Health, spoke with eMarketer about how the company manages its marketing stack and braces for changes.