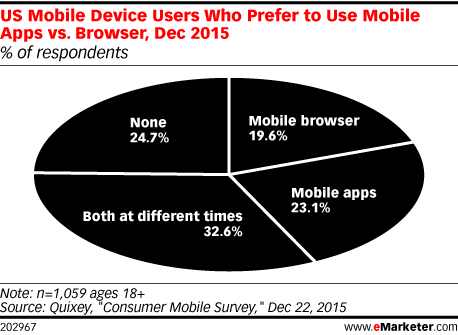 Mobile device users are split in their preference for mobile apps vs. the mobile browser, per December 2015 research. Nearly one-third say they prefer to use both at different times.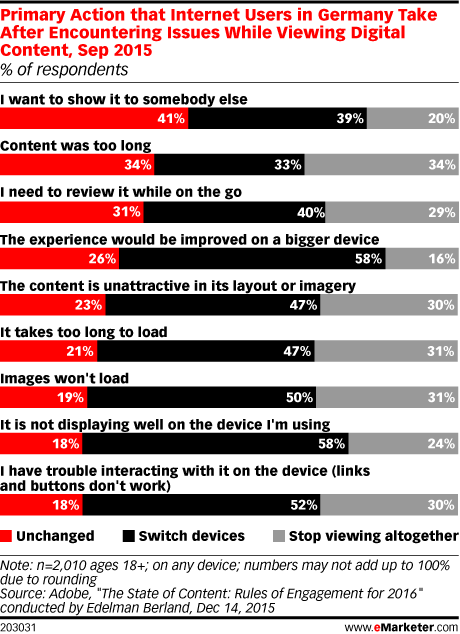 It's little wonder that the path to purchase has become an omnichannel one with the rise of digital and mobile channels of product discovery and purchase—especially when an array of problems can send internet users running to a different device.
Mobile connections have plateaued in Chile, but users are still making moves to switch to faster-paced mobile broadband connections. 4G connections more than doubled between 2014 and June 2015.
TV is still the No. 1 medium for daily consumption in Canada, but the internet is not far behind. The vast majority of consumers in the country spend time with both every day—as well as with radio.
The number of original scripted TV shows has grown over the years, not only on basic cable, but services like Hulu and Netflix, which have become video streaming destinations because of their original content.
Almost all web users know something—however vague—about the internet of things (IoT). But many worry about the privacy implications.
B2B companies may be eliminating some of the need for a sales force by offering different types of functionalities—from tiered pricing to cross-sells and upsells—to customers on their website. Newsletter sign-ups are the top features, according to 2015 research.
To some extent, US ad and marketing professionals are using data-driven marketing, according to July 2015 research. Most are primarily using it to maintain databases.
In 2016, digital display ad spending will eclipse search ad spending in the US for the first time. Combined, the categories of video, sponsorships, rich media and "banners and other" will account for the largest share of digital ad spending: 47.9%, worth $32.17 billion.
Digital movie viewership in South Korea has nearly tripled in two years, according to one source, and watching TV programs via the internet is also becoming more common.