Lead in: Morgan Johnston, manager of corporate communications and social media strategist at JetBlue Airways, explained how social listening leads to "quality engagements" with customers.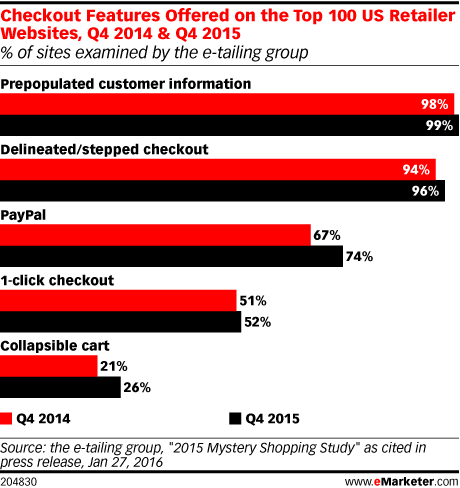 Most retailers know the checkout features they want to offer, like pre-populated customer information. Aside from a few adding PayPal to their website, many are not making changes to other areas, like adding one-click checkout.
TV viewing remains a regular pastime for most residents in Germany. Nine out of 10 adult internet users in the country watched television at least once per week in October 2015, according to the Office of Communications (Ofcom) – UK.
Lizzie Schreier, director of web and social engagement at Allstate, discusses the insurance provider's three-pronged approach to social listening.
Marcy Cohen, MasterCard's vice president of digital communications, explains how the global payment provider uses social listening to find actionable engagements.
Nearly half of internet users in Sweden are planning to celebrate Valentine's Day, according to a February 2016 survey by Svensk Handel. Of those who intend to do so, 44% will buy a gift for their partner, while 37% plan to stay in and cook a nice dinner.
During the Super Bowl 50, viewers were glued to their TV sets—with their mobile devices nearby. A February 2016 survey found that mobile accounted for the largest share of searches related to Super Bowl ads.
The market for smart watches may be heating up in Latin America, according to 2015 research. They're the most desired wearable device in several markets, ahead of fitness bands.
Facebook is king of the social networks among younger adults who use the mobile internet in Indonesia, but Instagram is not far behind, according to January research.
In France, broadcast TV remains almost universally popular. But many consumers also watch TV on other devices and platforms, including PCs, tablets and mobile phones. Conversely, much digital video content can now be viewed on a TV set.