Björn Ollhäuser, online and social media marketing specialist at BMW, explains why the brand has embraced some social networks but has steered clear of others.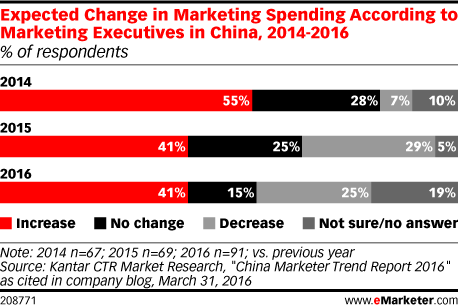 Even in the face of a recent economic slowdown in China, research suggests marketers in the country expect their 2016 budgets will increase or remain the same. TV, digital and mobile ads will dominate all formats in investment, though there is disagreement between forecasts as to which format will account for the biggest share of 2016 budgets.
More than three-quarters of US internet users said they don't plan on using a mobile app to shop for Mother's Day. Among those that will, flowers and gift cards are the most commonly planned purchases.
Zappar, a UK-based augmented reality app creator, spoke with eMarketer about how brands are exploring the medium.
Prama Bhatt, Ulta Beauty's vice president of digital and ecommerce, told eMarketer how mobile fits into the omnichannel customer journey.
More than 100 million people in Latin America will use a tablet regularly this year, eMarketer estimates, representing 18.4% growth in the region's tablet audience since 2015. About 10% of the world's tablet audience lives in Latin America.
Mobile shopping is mostly attractive due to its convenience, according to mobile phone internet users in Asia-Pacific. The ability to buy on the go, as well as use apps to shop and buy, were also popular.
Melinda McLaughlin, CMO of cloud-based enterprise platform Extreme Reach, discusses how the company is working to help clients activate and leverage video ads across all screens.
Viewability continues to generate headlines in the UK—not surprising given the ever-increasing budgets that are headed to digital display advertising. Of course, if you pay for an ad you want it to be seen, but viewability as a standalone metric is not a catchall solution for advertisers.
More internet users across nearly all demographics like to purchase products digitally and pick them up in-store compared to a year ago, according to research.<