Jed Kolko, senior fellow at the Terner Center for Housing Innovation at University of California, Berkeley, talks about the obstacles millennials face on the road to becoming homeowners.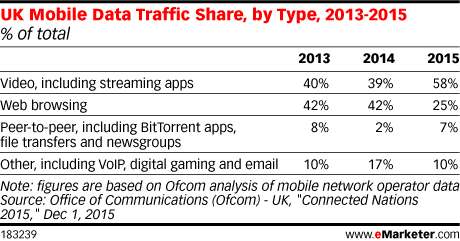 Video is taking over mobile data in the UK, according to 2015 data. The rise of 4G may be one reason, as eMarketer estimates two in five mobile phone users in the country will watch video this year.
Digital shoppers in Canada have made mobile a part of their path to purchase, but a solid majority of sales still come from the desktop, according to research. Organic search and referral traffic are helping to drive the most transactions.
Steve Chadwick, director of marketing communications at Verizon Enterprise Solutions, told eMarketer about the company's content strategy and results.
Shopping at brick-and-mortar stores has long been a rite of teen passage in the US—though socializing may be at least as important as the shopping itself. But teens, like millennials before them, now prefer shopping via digital channels, according to one survey.
Search engine optimization (SEO) professionals consider social shares and unique visits the most important KPIs for a piece of blog content, according to a December 2015 survey.
Nearly two-thirds of CMOs worldwide don't currently use digital advertising to better understand the audiences within their CRM database, according to September 2015 research.
Genpact (formerly GE Capital) dedicates half of its marketing budget to content marketing. Content leader Amrita Thapara explains why.
Advertising revenues are key to the existence of much digital video content. Still, if there are too many ads playing, users will stop watching the video altogether, according to December 2015 research.
Most internet users in Germany use social networks, and juggernaut Facebook is popular in the country. But other sites are less widely used in Germany than in the nearby UK.