Travel
---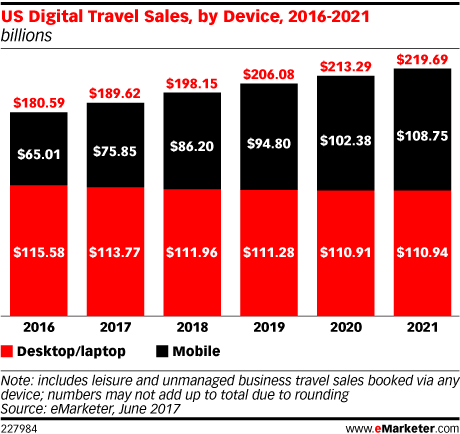 As the summer travel season officially gets under way, a growing number of Americans will use their smartphones and tablets to book a trip, according to eMarketer's latest forecast on digital and mobile travel. This year, digital travel sales in the US will reach $189.62 billion, 40.0% of which will come from mobile devices.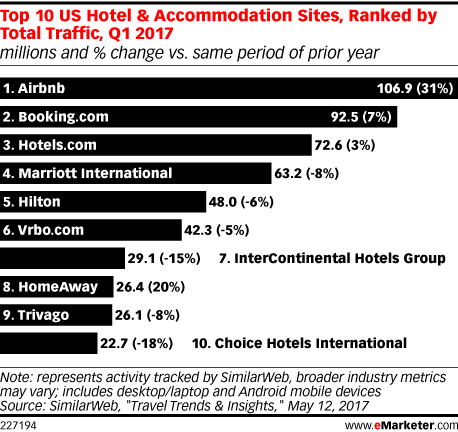 Airbnb is drawing more traffic to its site than metasearch services like Booking.com, as well as hotel brands like Marriott. The home-sharing service has found a willing user base among millennials, who are willing to trade the staid security of a hotel stay for something more exciting.
Stephanie Linnartz, global chief commercial officer at Marriott International, spoke with eMarketer about how the organization keeps marketing moving forward by looking outward to other industries and ahead to emerging trends.
In the ultracompetitive hotel business, executives invest more in digital marketing and social to boost awareness amid threats from Airbnb, Priceline and Expedia.
German consumers spent a bit more both online and off, lifting overall travel expenditures by 2.8%, according to recent data from Verband Internet Reisevertrieb.
Chat-based messaging apps are gaining favor with travelers, who find that they offer a number of potential benefits when staying at hotels.
Brexit's long-term effects are still to be seen, but its weakening of the pound is helping push up retail spending by foreign visitors to the UK.
eMarketer's scan of the key developments of the day, plus data to make sense of it all. Today's topics: Mario Run appears to disappoint investors; Amazon India gets into pedicures; the Vine app grows new shoots; and more.
Over half of all mobile travel site and app visitors in Germany ages 13 and older visited such sites and apps at least one to three times per month, according to a recent study. Nearly one-third visited a travel site or app once per week. But many would rather complete their purchase journey with an offline transaction.
UK consumers rely heavily on digital platforms when planning a holiday or trip, even when making the final purchase. Desktop PCs and laptops are by far the most trusted devices, with mobile playing only a minor role.