Travel
---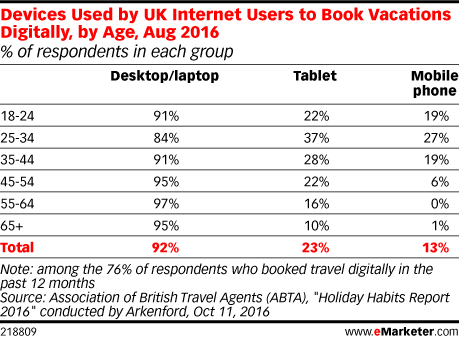 UK consumers rely heavily on digital platforms when planning a holiday or trip, even when making the final purchase. Desktop PCs and laptops are by far the most trusted devices, with mobile playing only a minor role.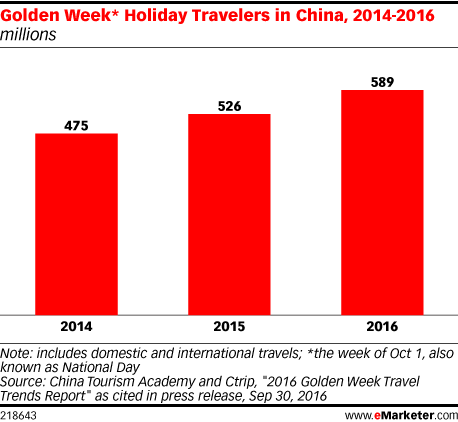 From October 1 to October 7—known in China as Golden Week—nearly 600 million people in China traveled either domestically or internationally for the holiday, up significantly from the approximately 530 million in 2015. And many of their trips were booked via mobile.
easyJet uses artificial intelligence (AI) technology to help stock and reduce food waste in its planes. Alberto Rey Villaverde, the airline's head of data science, told eMarketer how it works.
A growing appetite for international travel among consumers in China is fueling renewed interest among marketers in understanding how and where they spend their travel dollars. According to research, experiences, as well as purchasing local goods and souvenirs, is at the top of many consumers' wish lists.
Dirk Eschenbacher, founding partner of Zanadu, a China-based lifestyle online travel agency and online lifestyle media company, talks about the virtual reality (VR) market in China.
US internet users are equally divided in their intentions to unplug from the web while on vacation. Yet, according to research, most people have connected to the internet while taking a break, regardless of gender or age.
Ahmed Elemam, senior digital marketing and analytics strategist at WestJet, discusses why the airline is keeping some technology on premise.
Ruwie Rahardjo, general manager of travel metasearch engine Wego Indonesia, talks about how young people in Indonesia are more apt to book travel through digital channels.
While "internet of things" has just recently become a business catchphrase, the IT-driven travel industry has been working for years to incorporate internet-enabled components—including smartphones and tablets, wearables, sensors, communication networks, data hubs and analytics programs—into its business.
Rob Cushen, managing director of EMEA for mobile app development studio Intellectsoft, speaks on the importance of having a layered app experience and how streamlining multiple technologies leads to an engaging user experience.