Travel
---
eMarketer's scan of the key developments of the day, plus data to make sense of it all. Today's topics: Mario Run appears to disappoint investors; Amazon India gets into pedicures; the Vine app grows new shoots; and more.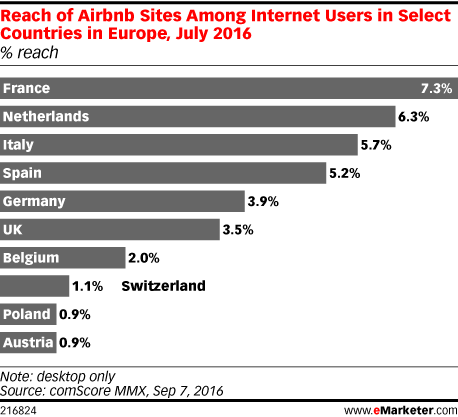 Airbnb is laying down the law in Amsterdam and London by limiting the number of days hosts can rent out their properties to guests. The move is part of an ongoing attempt by Airbnb to work with regulators across multiple cities—a change of tactic for the short-term home rental company.
UK consumers rely heavily on digital platforms when planning a holiday or trip, even when making the final purchase. Desktop PCs and laptops are by far the most trusted devices, with mobile playing only a minor role.
Amy Sherman, senior director of digital marketing at Marriott-owned Moxy Hotels, tells eMarketer that though Instagram excels as an advertising platform, it still trails Facebook when it comes to campaign performance measurement.
easyJet uses artificial intelligence (AI) technology to help stock and reduce food waste in its planes. Alberto Rey Villaverde, the airline's head of data science, told eMarketer how it works.
A growing appetite for international travel among consumers in China is fueling renewed interest among marketers in understanding how and where they spend their travel dollars. According to research, experiences, as well as purchasing local goods and souvenirs, is at the top of many consumers' wish lists.
Dirk Eschenbacher, founding partner of Zanadu, a China-based lifestyle online travel agency and online lifestyle media company, talks about the virtual reality (VR) market in China.
US internet users are equally divided in their intentions to unplug from the web while on vacation. Yet, according to research, most people have connected to the internet while taking a break, regardless of gender or age.
Ahmed Elemam, senior digital marketing and analytics strategist at WestJet, discusses why the airline is keeping some technology on premise.
Ruwie Rahardjo, general manager of travel metasearch engine Wego Indonesia, talks about how young people in Indonesia are more apt to book travel through digital channels.